---
How is healthcare made physically accessible in the automated city? What other needs might be co-delivered with healthcare? Will the efficiencies of automation and telepresence merely make care cheaper, or could it enable more profound changes?


---
Mental Health Infrastructure by Spectrum

Neighborhood strategies for Taipei City Psychiatric Care
By Victoria Yu

Studying the Diagnostic and Statistical Manual of Mental Disorders (DSM) reveals a constantly shifting view, where once commonly accepted mental disorders were eventually better understood from a new perspective with the benefit of time. If the past is any indicator, our current picture of the mind and its illnesses will also become obsolete. DSM-V and World Health Organization are challenging existing perceptions of mental illness and inviting us to see psychological disturbance as a part of daily life that everyone will experience to some degree in the course of their life. According to WHO, today 1 in 4 people in the world will be affected by mental or neurological disorders at some point in their lives.

As our perception of the boundary between mental health and illness is dissolving across time, this challenges us to imagine a new healthcare infrastructure that is closer to home and available to all people, not just those who have been clinically diagnosed and are seeking help within the walls of a mental health facility.

This project aims to weave mental health into the fabric of neighborhoods by introducing acupunctural elements: social loner observatories, community gardens, respite booths, and pocket park pavilions. Starting from an assumption that autonomous vehicles will release a portion of the current streetscape back to human use, the strategies proposed result in a spectrum of sociality, privacy, and engagement that is in contrast to today's black-and-white cityscape of spaces for the sane and the insane. People with varying degrees of depression or anxiety will therefore be able to enjoy public spaces with the corresponding degree of social support and a sense of safety.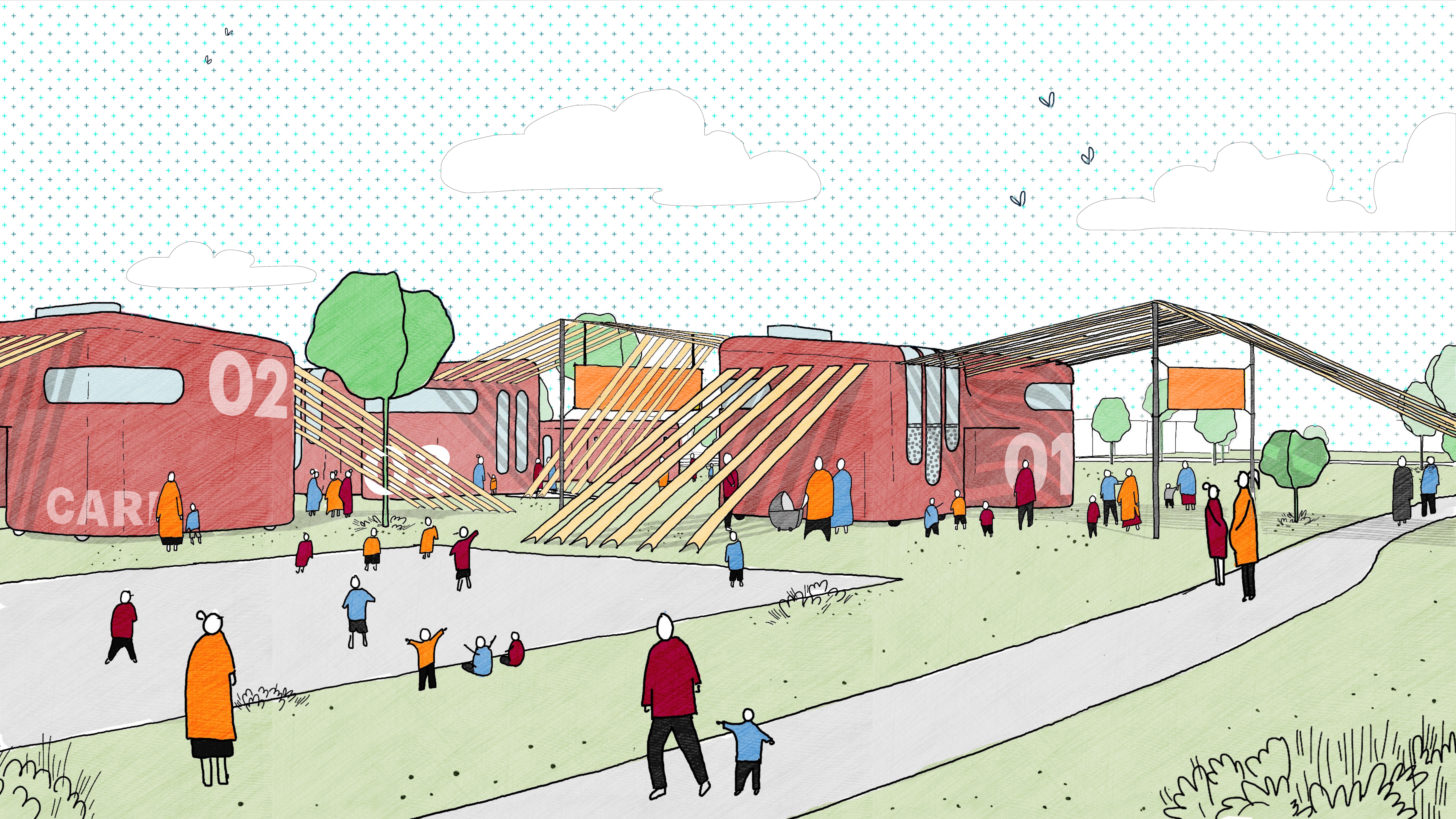 Network of Care
Mobile health infrastructure smaller than a building and better than a vehicle
By Rinika Prince

Historical research of healthcare shows an overarching pattern of a system that once delivered via centers of religious practices, as an extension of charitable and welfare services for those in need, to a healing 'machine' that was characterized by segregation and consolidation, driving toward efficiency. As we know, this is now breaking down further in scale in the form of retail clinics, mobile health, and telemedicine that deliver healthcare but also have negative impacts in terms of social isolation. Network of Care aims to counter inequality in access and a decline in interpersonal care through a mobile health unit that brings personal care to communities in lower-density cities. This speculative autonomous unit will provide primary care services to neighborhood residents as well as providing place-making strategies that elevate healthy lifestyles through safe and inspiring architectural environments.

The project piggybacks on existing urban infrastructures of Detroit, such as libraries, parks, schools, to provide primary health assistance for pregnant women and children in the "health desert" areas of the city. Networks of Care addresses a lack of access to healthy food, social isolation, and the poor quality of physical environments. The project will display two test cases; one when docked next to an elementary school and the other in one of Detroit's neighborhood parks. These test cases allow Networks of Care to demonstrate the viability of combining autonomous mobility and architectural strategies to create safe and inspiring places as well as facilitating more effective community engagement practices.
Aging in the Alleys
An unlikely alliance between ghost kitchens and elder coops
By Karun Chughasrani

A global demographic transition is upon us: the world is becoming older by the minute. Over the next two decades, as the US experiences a rapid growth in the number of elderly residents, our formal institutions will struggle to cope with the future; already skyrocketing healthcare costs, access to care, and demographic pressures are signaling a system overload. Will aging populations stay healthy, with a sense of wellbeing, social engagement, and productivity, or will they face illness, disability, and dependency?
Research
shows that about 80 percent of health consequences are caused by factors unrelated to the medical system. A literature review of recent studies foregrounds the disastrous effect that loneliness and a declining social capital have on seniors. Social isolation takes a heavy toll on those who suffer from it, both in health and overall well-being. An effort to quantify the cost of loneliness among Americans aged 65 or older shows that it
costs the US government
nearly $7 billion in additional health care costs per year.
Meanwhile, with the rise of the sharing economy, and with increasingly ubiquitous computing, we are witnessing the proliferation of co-working, on-demand services, ghost kitchens, and robotic deliveries. These are signs of emerging economic subcultures that are currently serving a richer and younger segment of the population. Aging in the Alleys projects a future alternative that repurposes these economic and technological developments to create opportunities for healthy placemaking that benefit a wider age bracket.
The project reimagines Chicago's alleys as vibrant civic assets and investigates new forms of public spaces that accommodate a new symbiosis of elderly occupation and automated businesses.